I go by the name
as suggested by my call sign.
Howdy, from The City of Grandview Heights (EM89lx), within the greater City of Columbus, County of Franklin, State of Ohio, USA. I was born and raised in Tucson, Arizona and have resided in the state of Ohio nearly six years. I became a ham on March 7, 2013, earning my Amateur Extra Class ticket.
How To Get Started Using The Digital Mode JT65.
The most current JT65 program is K1JT's "WSJT-X Version 1.7.0"... found HERE. This program is designed to be compatible with most modern transceivers and is available in PC, Linux, and Macintosh OS X formats. Other digital modes that this program supports are JT4, JT9, QRA64, ISCAT, MSK144, WSPR, as well as one called Echo, for detecting and measuring your own radio signals reflected from the Moon.
Dramatically Improve Your Digital Mode Reception Sensitivity!
If the sound card that you are using for any of the digital modes incorporates the audio interface chip, Texas Instrument series PCM2900, your audio input is being impeded. Sound cards that incorporate this chip include SIGNALINK USB external sound cards and all PC internal sound cards. Watch the following YouTube video for the remedy of this issue: https://www.youtube.com/watch?v=guH0NMRRTAo&feature=youtu.be. If you would like me to talk you through the setup process, please feel free to email me at Hal@K7HAL.com.
Enjoy JT65 More With JTAlert v2.8.7!
This JT65 companion program is compatible with both WSJT-X and JT65-HF, and adds lots of functionality. You have to try it to appreciate how awesome it is! This program is offered by HamApps.com. Download JTAlert v2.8.7
MY STATION

My humble base station consists of two Icom IC-706MKIIG all band transceivers, a forty year old Kenwood TS-520S hybrid transceiver, an MFJ-969 antenna tuner and a SignaLink USB. My only HF antenna is a homebrewed trapped attic dipole, tuned to 6, 10, 12, 15, 17, 20, 30, 40 and 80 meters, with the center of each bandwidth tuned to the JT65 band plan frequency. The photos above are of my 6 and 10 meter homebrewed traps. All of my trap inductors are constructed from 12 gauge copper wire, except for my 6 meter traps, where I utilized 1/4" copper tubing. (Click on the photos for enlargements in separate windows.) I tuned my homebrewed traps and dipole antenna using an older model mRS MiniVNA. My station is on the second floor of my apartment, in the near field of my antenna. You should see the number of ferrite beads I have attached to every component of my rig and computer, to get it all to work properly... HI HI!!! (The ferrite beads are Fair-Rite Mfg# 0431164181, ordered from www.mouser.com.) I work HF on one Icom and use the second to monitor the quality of my digital transmissions and to ragchew on my favorite 2 meter repeaters. My 2 meter and 70 cm antenna is a copper pipe J-pole.
I usually hang out on the KE8RV Memorial Repeater, which belongs to the Madison County Amateur Radio Club, at 147.285 mHz, standard offset, PL: 82.5.
A few years ago, I purchased a very clean Heathkit SB-221 linear amplifier and the components necessary to convert it to 80-10 meter operation. Along with the amp, I purchased a Heathkit HM-102 RF power and SWR meter. I am looking forward to mating those pieces with the TS-520S. Recently, I have purchased a Murch UT-2000 full power antenna tuner, advertised as "The Ultimate Transmatch." It has been modified by a previous owner with a milliamp meter that can read forward and reflected power, similar to the UT-2000B Model. It will work nicely with my TS-520S transceiver and modified SB-221 linear amplifier. Perhaps someday I will have an appropriately distant antenna to use my full power rig.
My goal throughout 2015 and 2016 was to earn my Mixed DXCC. Three years and 9 months after becoming a ham, I was awarded my Mixed DXCC AND my Digital DXCC, on November 30, 2016. NOW, my goal is to become a proficient straight key operator, which includes getting my receive speed up to at least 15 words per minute. A more lofty goal for 2017 will be to earn my CW DXCC. That is easier said than done. If 2017 goes by as quickly as 2016, I may not get very far. We shall see.
Online Resonant Frequency Calculator
Email me at Hal@K7HAL.com. Looking forward to hearing from you.
73 and may God bless, de Hal
"Jesus said to him, 'I am the way, the truth, and the life. No one comes to the Father except through Me.'" John 14:6
Antarctic QSL with KC4AAA
South Pole Station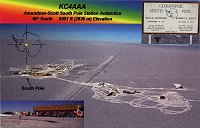 Though not my most distant QSO, my 17 meter JT65 contact with Joe Musachia (W5FJG), at the Amundsen-Scott South Pole Station (KC4AAA), was the most memorable. A bit later, I emailed Joe and he replied with a very informative email. Facts about the station are printed on the back of his QSL card, shown in the center photo above. With this contact, I earned my basic and digital Worked All Continents (WAC) certificates for all seven continents, instead of the required six.
(Click on the photos above for enlargements in separate windows.)
AMUNDSEN-SCOTT SOUTH POLE STATION VIDEO TOUR
---
LOGBOOK OF THE WORLD
WORKED ALL STATES
STATUS
Updated January 7, 2017
WAS
Awards
States
Worked
Credit Status
Basic

50

"WAS" AWARDED November 4, 2013, #57,673
80M
41
Missing: AK, HI, ME, NE, ND, OR, SD, VT, WY
40M

50

Completed on July 19, 2014... Certificate not purchased.
30M
45
Missing: HI, MT, ND, VT, WV
20M

50

Completed on October 2, 2014... Certificate not purchased.
17M
48
Missing: MT, WV
15M
40
Missing: DE, IN, IA, MN, MS, NH, ND, VT, WV, WI
12M
30
Missing: AR, CT, DE, GA, HI, IN, IA, ME, MD, MA, MI, MO, NE, NH, ND, RI, SC, SD, TN, WV
10M
26
Missing: AR, CT, DE, IL, KS, LA, ME, MA, MI, MN, MO, NE, NH, NJ, NY, ND, OK, PA, RI, SC, TN, VT, WV, WI
6M
14
Missing: AK, AZ, CA, CO, DE, GA, HI, ID, IL, IN, IA, KY, MD, MI, MN, MS, MT, NE, NV, NH, NJ, NM, NY, NC, ND, OR, PA, RI, SC, TN, UT, VA, WA, WV, WI, WY
Phone
10
Missing: AL, AK, AZ, CO, HI, ID, IL, IN, IA, KS, KY, LA, ME, MD, MN, MS, MO, MT, NE, NV, NH, NJ, NM, NY, NC, ND, OH, OK, OR, PA, RI, SC, SD, UT, VT, VA, WA, WV, WI, WY
Digital

50

"WAS" AWARDED November 5, 2013
JT65

50

"WAS" AWARDED January 10, 2014
PSK31
36
Missing: AK, DE, ID, IN, KY, MD, MI, NV, NH, ND, UT, VT, VA, WI
80M-Digital
41
Missing: AK, HI, ME, NE, ND, OR, SD, VT, WY
80M-JT65
41
Missing: AK, HI, ME, NE, ND, OR, SD, VT, WY
60M-JT65 (No WAS)
3
Missing: AL, AK, AZ, AR, CA, CO, CT, DE, FL, HI, ID, IN, IA, KS, KY, LA, ME, MD, MA, MI, MN, MS, MO, MT, NE, NV, NH, NJ, NM, NY, NC, ND, OK, OR, PA, RI, SC, SD, TN, TX, UT, VT, VA, WA, WV, WI, WY
40M-Phone
6
Missing: AL, AK, AZ, CA, CO, DE, FL, HI, ID, IL, IN, IA, KS, KY, LA, ME, MD, MN, MS, MO, MT, NE, NV, NH, NJ, NM, NY, NC, ND, OH, OK, OR, PA, RI, SC, SD, TX, UT, VT, VA, WA, WV, WI, WY
40M-Digital

50

Completed on July 19, 2014... Certificate not purchased.
40M-JT65

50

Completed on July 19, 2014... Certificate not purchased.
40M-PSK31
2
Missing: AL, AK, AZ, AR, CA, CO, CT, DE, FL, GA, HI, ID, IL, IN, IA, KS, KY, LA, ME, MD, MA, MI, MN, MO, MT, NE, NV, NH, NJ, NY, NC, ND, OH, OK, OR, PA, RI, SC, SD, TN, TX, UT, VT, VA, WA, WV, WI, WY
30M-Digital
45
Missing: HI, MT, ND, VT, WV
30M-JT65
45
Missing: HI, MT, ND, VT, WV
20M-Phone
3
Missing: AL, AK, AZ, CA, CO, CT, GA, HI, ID, IL, IN, IA, KS, KY, LA, ME, MD, MA, MI, MN, MS, MO, MT, NE, NV, NH, NJ, NM, NY, NC, ND, OH, OK, OR, PA, RI, SC, SD, TN, TX, UT, VT, VA, WA, WV, WI, WY
20M-Digital

50

Completed on October 2, 2014... Certificate not purchased.
20M-JT65

50

Completed on October 2, 2014... Certificate not purchased.
20M-PSK31
35
Missing: AK, DE, ID, IN, KY, MD, MI, NV, NH, NM, ND, UT, VT, VA, WI
17M-Digital
48
Missing: MT, WV
17M-JT65
48
Missing: MT, WV
15M-Phone
1
Missing: AL, AK, AZ, AR, CA, CO, CT, DE, FL, GA, HI, ID, IL, IN, IA, KS, KY, LA, ME, MD, MA, MI, MN, MS, MO, MT, NE, NV, NH, NJ, NM, NY, NC, ND, OH, OK, OR, PA, RI, SC, SD, TN, UT, VT, VA, WA, WV, WI, WY
15M-Digital
40
Missing: DE, IN, IA, MN, MS, NH, ND, VT, WV, WI
15M-JT65
40
Missing: DE, IN, IA, MN, MS, NH, ND, VT, WV, WI
12M-Digital
30
Missing: AR, CT, DE, GA, HI, IN, IA, ME, MD, MA, MI, MO, NE, NH, ND, RI, SC, SD, TN, WV
12M-JT65
30
Missing: AR, CT, DE, GA, HI, IN, IA, ME, MD, MA, MI, MO, NE, NH, ND, RI, SC, SD, TN, WV
10M-Phone
2
Missing: AL, AK, AZ, AR, CO, CT, DE, FL, HI, ID, IL, IN, IA, KS, KY, LA, ME, MD, MA, MI, MN, MS, MO, MT, NE, NV, NH, NJ, NM, NY, NC, ND, OH, OK, OR, PA, RI, SC, SD, TN, TX, UT, VT, VA, WA, WV, WI, WY
10M-Digital
25
Missing: AR, CT, DE, GA, IL, KS, LA, ME, MA, MI, MN, MO, NE, NH, NJ, NY, ND, OK, PA, RI, SC, TN, VT, WV, WI
10M-JT65
25
Missing: AR, CT, DE, GA, IL, KS, LA, ME, MA, MI, MN, MO, NE, NH, NJ, NY, ND, OK, PA, RI, SC, TN, VT, WV, WI
6M-Digital
14
Missing: AK, AZ, CA, CO, DE, GA, HI, ID, IL, IN, IA, KY, MD, MI, MN, MS, MT, NE, NV, NH, NJ, NM, NY, NC, ND, OR, PA, RI, SC, TN, UT, VA, WA, WV, WI, WY
6M-JT65
14
Missing: AK, AZ, CA, CO, DE, GA, HI, ID, IL, IN, IA, KY, MD, MI, MN, MS, MT, NE, NV, NH, NJ, NM, NY, NC, ND, OR, PA, RI, SC, TN, UT, VA, WA, WV, WI, WY
5-Band
205
Missing: AK-80M, AR-10M, CT-10M, DE-10M, DE-15M, HI-80M, IA-15M, IL-10M, IN-15M, KS-10M, LA-10M, MA-10M, ME-10M, ME-80M, MI-10M, MN-10M, MN-15M, MO-10M, MS-15M, ND-10M, ND-15M, ND-80M, NE-10M, NE-80M, NH-10M, NH-15M, NJ-10M, NM-80M, NY-10M, OK-10M, OR-80M, PA-10M, RI-10M, SC-10M, SD-80M, TN-10M, TX-80M, VT-10M, VT-15M, VT-80M, WI-10M, WI-15M, WV-10M, WV-15M, WY-80M
---
ENTITIES CONTACTED ~ SORTED BY CONTINENTS OR REGIONS
Contacts within parentheses are not entities.
Updated November 18, 2016
Africa
Burkina Faso
Gabon
Namibia
Republic of South Africa
Swaziland
The Gambia
Antarctica
Antarctica
(Amundsen-Scott South Pole Station)
(Neumayer III Station, Ekstroem Ice Shelf, Atka Bay)
(Novolazarevskaya Russian Base)
Asia
Asiatic Russia
Japan
Kazakhstan
Atlantic Islands
Azores
Bermuda
Canary Islands
Cape Verde
Greenland
Iceland
Madeira Islands
St. Helena Island
Australia
Australia
(Madagascar)
Caribbean
Aruba
Bahamas
Bonaire
Cayman Islands
Cuba
Curacao
Dominica
Dominican Republic
Guadeloupe
Guantanamo Bay
Haiti
Martinique
Puerto Rico
Saint Lucia
Trinidad and Tobago
U.S. Virgin Islands
Central America
Belize
Costa Rica
Guatemala
Honduras
Panama
Europe
Austria
Balearic Islands
Belarus
Belgium
Bosnia-Herzegovina
Bulgaria
Croatia
Czech Republic
Denmark
England
Estonia
European Russia
Federal Republic of Germany
Finland
France
Gibraltar
Greece
Guernsey
Hungary
Ireland
Italy
Jersey
Kaliningrad
Lativa
Liechtenstein
Lithuania
Luxembourg
Malta
Moldova
Netherlands
Northern Ireland
Norway
Poland
Portugal
Romania
Sardinia
Scotland
Serbia
Sicily (Italian island)
Slovak Republic
Slovenia
Spain
Sweden
Switzerland
Turkey (West Istanbul)
Ukraine
Wales
Indian Ocean Islands
Reunion Island
Middle East
Israel
Kuwait
United Arab Emirates
North America
Alaska
Canada
Mexico
United States
Pacific Islands
Guam
Hawaii
New Caledonia
New Zealand
South America
Argentina
Bolivia
Brazil
Chile
Colombia
Ecuador
French Guiana
Paraguay
Peru
Uraguay
Venezuela
---
ACHIEVEMENTS AWARDED
Click on certificates to enlarge in a separate window.
Updated December 6, 2016
---